One of Babette's greatest joys, perhaps second to her love for music, was viewing films. As I recounted in my book, we often watched them together after dinner, followed by lengthy philosophical discussions. One of my favorite memories is sitting together on the couch in her upstairs parlor, listening to my professor gush about favorite directors and actors.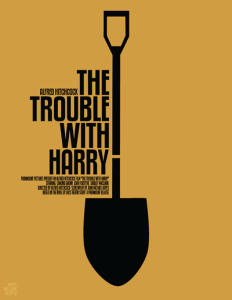 The first we ever saw was Alfred Hitchcock's 'The Trouble With Harry.' It's far from his best film, yet still a charming black comedy, incidentally featuring Shirley MacLaine's first starring role. This turned out to begin a strong theme over the years, as Babette adored Hitchcock, considering "Dial M for Murder' a particular favorite. However, she always emphasized his filmatic genius only, declaring it a mistake to learn too much about the personal qualities of people one admires.
To keep it under 100,000 words, I cut out several parts from my original manuscript relating to her vast film collection. It filled hundreds of VHS tapes that ran along shelves in the basement and filled two trunks. She organized them using index cards, the titles scrawled across them in wobbly handwriting. Sometimes a small review or other information would be taped to the back. This system needed an upgrade. I typed up every title and completed an alphabetical list, all the way from 'Le 400 Coups' to 'The Life of Emile Zola.'
While Babette certainly enjoyed highbrow cinema, for every 'La Passion D'Anna Karenina' there lurked a Monty Python short. Indeed, I was amazed to discover Babette harbored no small amount of fondness for 'Mr. Bean.'
Still, her main attentions focused on tragic dramas, all the better if they featured a dominate, cruel and manipulative female lead. Among those, she loved especially: 'Belle de Jour,' 'Cousin Bette,' 'Diabolique,' 'The Last Seduction,' and 'Letters to an Unknown Lover."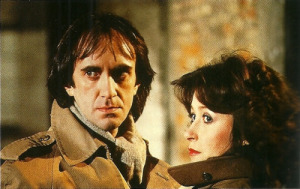 (above) Cherie Lunghi preparing to ruin Jonathan Pryce
However, a multipart series called 'The Praying Mantis' absolutely topped her list, featuring Cheri Lunghi as one of a female pair who maneuver against one another, using men as pawns in their devious games. My professor went completely giddy during many scenes, actually bouncing off the cushions beside me, her round face aglow.
The last film Babette saw was, fittingly, 'Babette's Feast,' just after hosting a dinner party for several of her favorite students. We had previously watched it together, so I stayed downstairs washing dishes, listening to her loudly deliver a pre-show lecture before playing it. As always, she loved sharing her passions with friends.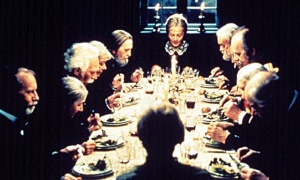 (above) Babette's Feast, the movie version
Here is a partial list of some other favored English language films and series:
Are You Being Served?
A Bed Among Lentils
Beguiled
Bless Me, Father
Agatha Christie Mysteries
Closely Watched Trains
Dulcima
Dr. Mabuse: Demon of Crime
Fantomas
Fear in the Night
The General Died at Dawn
Germany: Year Zero
Hands Across the Table
Knight Without Armor
Night Watch
The Postman Always Rings Twice
Reilly: Ace of Spies
So Evil, My Love
The Thin Man
Topper